Jose Mourinho. An ego big enough to proclaim himself "The Special One" and a medal cabinet to back it up. There's no doubting his success in winning trophies; success which has as much to do with his siege mentality approach and public man management style as it does on-field tactics. A combination which unfortunately for Jose, tends to become counterproductive and lead to his eventual downfall after 3 seasons in charge of a club.
INTER MILAN – June 2008 till May 2010 (1 year and 11 months)
I'll start with 2010 in the business end of his final season with Inter. While he used a 4-3-1-2 for a while, he switched to a 4-2-3-1 midseason. The reason being that in a 4-3-1-2 formation, the opposition's fullbacks are not pegged back by wingers, but by switching to the 4-2-3-1, Mourinho stopped the potential for those fullbacks to assist in attack. When Inter hosted Chelsea in Europe, Inter won 2-1, but Mourinho changed the dynamics of the game in his favour with a tactical substitution at half-time (Mario Balotelli for Thiago Motta) to put a stop to Ivanovic's and Malouda's attacks. This picture sums it up quite nicely.
Mourinho decided to stick with this formation for the remainder of the season. His starting XI being:
Julio Cesar; Maicon, Lucio, Samuel, Zanetti; Cambiasso, Motta; Eto'o, Sneijder, Pandev; Milito.
Mourinho's biggest test came in the next round against Guardiola's imperious Barcelona, a side fresh from winning the Treble with ease the year before. By using Pandev as a left winger, Mourinho forced Dani Alves to stay back and not join the attack as he regularly did so effectively for Barcelona. With Dani Alves neutralized Barcelona were forced to try and attack from their weaker side (the left). Mourinho exploited the weakness by attacking this flank with Eto'o, Sneijder, Maicon and Milito. Despite conceding early, 3 of these 4 players were on the score sheet in a 3-1 win. Inter then 'parked the bus' at the Camp Nou (a phrase used to criticise Mourinho's negative tactics) and even after having a man sent off, Inter went through to the final over two legs.
Did he get his tactics right? Absolutely. Even when Inter went a man down in the return leg, he changed the team into a 4-2-3-0 formation where the only players not being pressed were Barcelona's central defenders. Mourinho has always preferred a 3 man midfield over a 4-4-2. Whilst manager of Chelsea in 2005 he said:
"If I have a triangle in midfield I will always have an advantage against a pure 4-4-2 where the central midfielders are side by side. That's because I will always have an extra man. It starts with Makelele, who is between the lines. If nobody comes to him he can see the whole pitch and has time. If he gets closed down it means one of the two other central midfielders is open. If they are closed down and the other team's wingers come inside to help, it means there is space now for us on the flank, either for our own wingers or for our full-backs. There is nothing a 4-4-2 can do to stop things." (See here for this Chelsea set-up)
Mourinho continued with this formation in the Champions League final as Inter beat Bayern Munich 2-0, making him a two-time winner following his triumph with Porto in 2004.
REAL MADRID – May 2010 till May 2013 (3 years)
In his first season at Madrid, Mourinho continued with the 4-2-3-1, and set up a starting XI of:
Casillas; Ramos, Pepe, Carvalho, Marcelo; Alonso, Khedira; Di Maria, Ozil, Ronaldo; Higuain. (Line-up and formation here)
Mourinho's Madrid was a well-built unit. Khedira was 'the destroyer' (a Mourinho-ism) and whilst Alonso lacked pace, he was an excellent tackler with flawless ball distribution. Although still quite young, Ozil possessed unquestionable talent, and Di Maria played the tiresome role of a winger who must also defend perfectly. It's players like Di Maria (and Willian in his second stint at Chelsea) that Mourinho values so much. Not only can they attack at pace, but they constantly press the opposition and defend when necessary. Cristiano Ronaldo was the luxury Mourinho loved and hated. Ronaldo played as a left winger and usually Mourinho saved that position for a hard working player. However he had to change his formula to accommodate a player as good as Cristiano, meaning Marcelo had a lot of running to do when Ronaldo abandoned his position to attack centrally. Ronaldo's inability (or unwillingness) to defend went on to be exploited by sides that defeated Madrid that year. In the 5-0 humbling at the hands of Barcelona, 4 of the 5 goals came directly down Madrid's left. Mourinho had previously set up his teams to counter attack once they got the ball, but in that particular game, they didn't get the ball very often and when they did, they didn't capitalise on the chances available. Ronaldo joined the attack very quickly in hope of making a quick break but when Barcelona regained position, Marcelo would be in no man's land having to deal with both Alves and Pedro. Mourinho wasn't happy with this and tried to change things.
Games like the 5-0 Clasico encouraged Mourinho to make his attackers as ruthless as possible. When Higuain became injured, Mourinho took the time to mould Benzema into a clinical finisher to ensure that whatever chances became available, were scored. Mourinho and his team had been publically humiliated and he made it his priority to ensure that a repeat of the 5-0 could never happen again. Mourinho won the Copa del Rey that same season but he had to tinker with his team. Pepe moved to the destroyer role and Ronaldo became the striker so that two wingers were always working rather than just Di Maria. In the end, the change worked as Di Maria's cross for Ronaldo's header sealed the cup.
The Champions League semi-final followed shortly after and when Barcelona won 2-0 at the Bernabeu, Mourinho's reaction was explosive,
"If I tell UEFA what I really think and feel, my career would end now," Mourinho said. "Instead I will just ask a question to which I hope one day to get a response: Why? Why? Why Ovrebo? Why Busacca? Why De Bleeckere? Why Stark? Why? Because every semi-final the same things happen. We are talking about an absolutely fantastic football team, so why do they need that? Why? Why does a team as good as they are need something [extra] that is so obvious that everyone sees it?"
This was a classic "us vs them" move by Mourinho. By deviating pressure away from his players and their performances, the spotlight was on Barcelona who many felt were helped by UEFA and their officials (Chelsea fans won't forget the controversial refereeing in their 2009 match vs. Barcelona any time soon either). This deliberate move by Mourinho set the tone for the following 2011-12 season.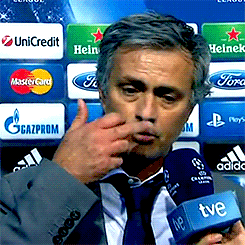 2011-12 Mourinho's Madrid dethroned Barcelona and won La Liga. He continued to use his favoured 4-2-3-1 but again altered personnel slightly:
Casillas; Arbeloa, Ramos, Pepe, Marcelo; Alonso, Khedira; Di Maria, Ozil, Ronaldo; Benzema.  (Line-up and formation here)
As Mourinho became more ruthless as a manager, his team followed suit and obliterated most opposition with fast, clinical finishing. As Ronaldo took up more central positions, Marcelo needed help when he was exposed, so Mourinho put Sergio Ramos into the centre. Since Ramos is a much quicker player than Ricardo Carvalho, his (and Pepe's) mobility made it easier for them to stop any potential counter-attacks that they were susceptible to in the previous season.
Mourinho's siege mentality and deflective public speaking became more evident and it was obvious from the players' reactions that this was working. In the 2011-12 season, there were 6 Clasicos (matches against Barcelona) and every one of them was a war (He even eye-gouged Barcelona's Coach) .
Spanish Supercopa:
First Leg: Real Madrid 2-2 Barcelona.
Second Leg: Barcelona 3-2 Real Madrid
Mourinho used his default formation for these games. Despite his well-designed system, Guardiola's Barcelona were yet to be stopped (there are many who believe it was the greatest team of all time.) However these games would go a long way towards breaking Barcelona's unquestionable dominance in Spain. What became evident is that even when Real Madrid had taken a lead against Barcelona, they were scared. Barcelona's Villa scored a wonder goal in the first leg to equalise at 1-1 and after that, the Real players looked nervous to not make a mistake because they knew how strong Barcelona were. Mourinho lost the Supercopa, a trophy he'll hardly care for, but he knew then it was his team's mentality that had to change.
Real Madrid totalled 100 points over the course of La Liga, scoring 121 and conceding only 32. For a Mourinho team, these high scoring statistics were unusual. In Mourinho's treble winning season at Inter, his side scored 75 goals in Serie A. This Madrid team were obviously talented, but they still let a Barcelona side get in their faces and their heads. Even after taking an early lead in the next Clasico, Barcelona rallied to win 3-1 at the Bernabeu, however the following Copa del Rey clash changed things.
Ronaldo scored early but Barcelona rallied again and won 2-1. Mourinho was furious and his outbursts began to become headline news. Reports emerged that he was in feuds with both Casillas (his captain) and Ramos (his vice captain). In the second leg, Barcelona had a 2-0 lead by half time and it seemed impossible that Madrid would score 3 in the second half. But Mourinho sent out a team thats goal was to break up every Barcelona build-up play and then counter-attack with speed. They ended up drawing the game 2-2. If the match had lasted 10 more minutes, Madrid probably would have scored again. This game finally broke the mental block the Madrid players had; Barcelona were rattled and Mourinho now knew how to do it. This was important for the title-deciding Clasico later that season, where Mourinho finally got his first win at the Camp Nou. Despite winning La Liga, his Madrid side missed out on becoming champions of Europe by the narrowest of margins, a penalty shootout loss to Bayern Munich.
2012-13 came and Mourinho brought in one notable signing,  Tottenham's Luka Modric. In just Madrid's first 4 La Liga games, they had dropped 8 points as Mourinho's team suffered the consequences of the previous season. A lack of rotation meant the players were exhausted from playing on the counter and letting the opposition hold the ball for long periods. It seemed like everything Mourinho had worked to build was falling apart and instead of rallying his players to work together, he created rifts within the squad. A pro-Mourinho and anti-Mourinho debate began amongst the players as Casillas, Ramos, Pepe, and Ronaldo were all said to have problems with their boss. A golden opportunity came for Mourinho when Casillas suffered an injury. He dropped the underperforming goalkeeper without getting criticized for it and shifted the team's focus away from the rifts. Ramos became captain and Diego Lopez came in as goalkeeper in January. From February onwards, Madrid played 16 La Liga games, winning 13, drawing 3 and losing 0. It was an unbeaten streak of several months and simultaneously, Madrid made it to the Copa del Rey final (defeating Barcelona in the semi-finals) and the Champions League semi-final.
Despite Mourinho's teams having a solid defensive set-up, they are very prone to quick attacking football. In this Champions League semi-final Klopp used 'gegenpressing' to constantly harass the Madrid players and in the end, their counter-attacks were quicker. Dortmund won the first leg 4-1 and Mourinho had a week to plot a comeback. He dropped Khedira, one of his favourite players, for Modric, and therefore used both Alonso and Modric to create from deep and spray the ball to one of the four players ahead. In the end, Madrid pushed and won 2-0, but it wasn't enough. This was Mourinho's end at Madrid. He had lost the support of the influential and important players, and also most of the dressing room. Tensions were at a bloodthirsty level between Barcelona and Madrid and it was deemed that a period of harmony and cohesion was needed to repair this, so Mourinho left and Carlo Ancelotti came in.
RETURN TO CHELSEA – June 2013 till December 2015 (2 years and 6 months)
Mourinho returned to Chelsea and claimed to be "The Happy One" but even from the onset it was obvious his return wouldn't be as smooth as his first tenure. He used a 4-2-3-1 for most games (Like This) but in away matches against major opposition (Man City, Arsenal), he fielded a 4-3-3. He dropped Juan Mata, a very creative player, for Oscar, because of his lack of defensive presence (which shocked me when he signed Fabregas). Yes, Mourinho's teams are defensively solid but they're ruthless in the sense that only the best attackers will work in such a system as the counter-attacks need to be quick and effective. Torres and Ba didn't fit this system so in came Eto'o one of his anchors at Inter. In January, he signed Matic, a destroyer much like Khedira was for Madrid. He still needed someone like Alonso to spray the ball to the attacking players so in the summer, he signed Fabregas and a clinical finisher in Diego Costa.
Before considering why Mourinho's time at Chelsea played out as it did, a deeper insight into his individual man-management mentality is important.
MENTAL MANAGEMENT
9 times out of 10, Mourinho is a player's friend. He genuinely tries to move blame away from his players, but as a result, he blames everything else. The referee, the pitch, opposition tactics, scheduling, etc. At Inter he accused the Italian media of "intellectual prostitution" towards him, talked of anti-Inter conspiracies, and constantly played the role of a victim (remember this famous 'handcuff gesture'?) He deflected any negativity away from his players and they loved him for it (all except Balotelli that is).
It was during his tenure at Real Madrid that Mourinho's mentality changed. It was the first time he had come across players who rebelled against him. Until then he had always been the player's 'friend', shielding them from outside negativity and never criticising them in the open directly. By the end of his term he had transformed into a 'father' figure, a personality like Alex Ferguson at Manchester United, a man he has always openly admired. A man whose players were scared of and played their best to earn his love.
The mentality worked at Chelsea initially. He assembled the players he felt would fit his system and they won the Premier League with games to spare. Mourinho's public antics then became noticeably madder than ever before. There was the famous "campaign against Chelsea" and the "minute 40… 72…" paranoia. He claimed that the FA didn't want English clubs to do well, that referees hated him for being vocal, and a few other such conspiracies. For the first time Mourinho openly criticised and berated his players publicly too. This included digs at players like Mata and De Bruyne for their lack of work ethic, when in the past such players were quietly eased out of the first team to be used only when others became injured. Some took this criticism well, some didn't, and whoever didn't was dropped and sold. Throughout this time Mourinho stood tall alongside his loyal lieutenants who kept the dressing room together for him. This included the likes of Drogba, Lampard, Cech, Terry and Essien. These players were a double-edged sword for Mourinho as he was their friend, and whilst they were in the squad he couldn't become the 'father' figure personality that was the ethos behind his attempts to copy Ferguson's dynasty building. By the beginning of the 2015/16 season Jose seemed confident not to need their help in the dressing room anymore. When results went badly at the start of the campaign he made a statement by first dropping Terry and then lashing out in anger towards his medical staff. This was a statement to the players to say, 'I'm not your friend anymore, if I can do that to them then I can also do it any of you.' He kept up this approach and most were dropped (Terry), berated in the media (Hazard, Costa), or sold (Cech, Drogba). What Mourinho probably expected was that they would get the message and train harder for him, but ultimately they didn't. Mourinho's shift from a 'friend' to a 'father' had failed, as instead of being intimidated into performing out of fear, the players simply sulked and gave up. Mourinho had once again lost the dressing room and was sacked in December 2015, with Chelsea just two places off the relegation zone.
Whilst it's true the Chelsea players' attitudes and performances had let him down, he had long-lost their unanimous support before this happened. Mourinho's issue is that if he had come out on top in the battle with his players, he would have overhauled the squad for another 3 years and the same vicious cycle would repeat again.
CONCLUSION
There is so much more to the Jose Mourinho story than just the tactical success of using the 4-2-3-1 formation; his rises and falls are much more complex. It's possible that his style of formation, which was once so successful, is now outdated and predictable as its very defensive and it requires the very best attackers to regularly be playing to their very best. Eto'o, Milito, Ronaldo, Benzema, Hazard, Costa…. these are all incredible players.   What's more likely is that the "us vs them" gimmicks he uses to unite a squad under him are only effective for 2-3 years. He makes the squad think that they have something to prove to the rest of the world and after a while, they get tired of thinking everyone is their enemy. They're humans and want to be remembered for playing attractive football and winning titles, not for having bloodthirsty feuds with rivals.
Xavi once said that Mourinho will not be remembered in football history and while that's quite an exaggeration, I've finally started to understand what he means. Who wants to remember a man who fought with everyone? Despite his success, he used personal hatred and anger to get where he wanted to be. His trophy cabinet may prove testament to his competitive achievements, but it doesn't seem surprising that Mourinho has never declared how much he loves the game, as Guardiola, Ferguson, and Ancelotti have. After all, he only fell into football management after being a Spanish language translator.
He is a man-manager who hates to lose, but in also developing a hate for everyone else, he fails. I hope Mourinho takes a break before accepting a new job and figures out what type of manager he wants to be. Wherever he ends up next, I hope he goes with love.